Tay Eng Soon Library
The Quiet Zone has individual study carrels. The Interactive Zone allows for collaborative group learning. The Tay Eng Soon Library also offers a Surf and Study Zone which maximises the use of a calm workspace while offering a view of the serene greenery that encompasses a Koi pond. The Chill-Out Alley offers our users space to mingle, relax, and take a break from work.
Operating Hours of Tay Eng Soon Library
Monday - Friday: 9.00 AM – 9:00 PM
Saturday: 9.00 AM – 5:00 PM
Closed on Sundays and Public Holidays
---
CyberXpress @ Block B, Level 1
PC​s are available for students to scan and print materials.
Operating Hours of CyberXpress
Monday - Friday: 9.00 AM - 10:00 PM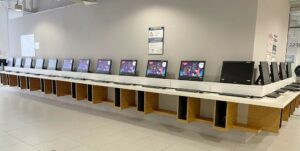 ---
Group Discussion Rooms
The library group discussion rooms facilitate private group work and discussions. There are six group discussion rooms available at Block B Level 1.
Names of Group Discussion Rooms:
​Climate Action
Renewable Energy
Thriving Forest
Healthy Ocean
Clean Air
Wildlife Conservation
Students are required to make prior online bookings through Room Bookings to use these rooms. Each student is allowed to make booking(s) of up to two hours per day. Each wireless-enabled group discussion room can accommodate a maximum of six persons and is equipped with a digital whiteboard.
Operating Hours of Group Discussion Rooms
Monday - Sunday: 8:00 AM - 10:00 PM
To make a booking, click here.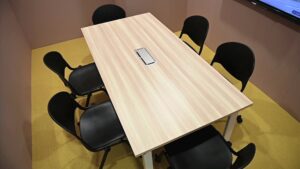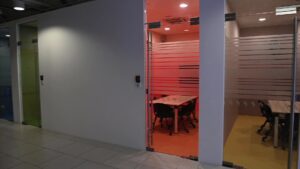 ---
Privacy Pods
Soundproof privacy pods are available for users who need a quiet space for video conferencing. Three privacy pods are available within the library at Block A Level 2.
Each soundproof privacy pod can accommodate a maximum of 1 person and is equipped with USB and power charging points, adjustable lighting, and seating.
Operating Hours of Privacy Pods
Follows the library's operating hours.
---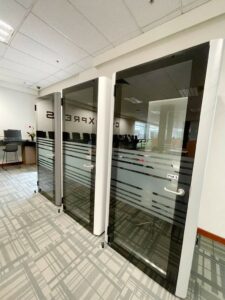 Printing
All the PC stations in the library are enabled for network printing. Library users may send a print job from any of these PCs and retrieve the printout from the Print Release Stations located near the Interactive Lounge at Block B, Level 1 and in the Photocopy Room. CashCards, NETS FlashPay, or EZ-Link cards are the accepted modes of payment.
CashCards can be purchased from the operator in the photocopy room. CashCard top-up facilities are also available in the photocopy room (self-service).
---
Photocopying
Self-service photocopying facilities are available in the library. Only CashCards or NETS FlashPay cards can be used for payment for photocopying services. Library materials may be photocopied under the terms of the Si​ngapore Copyright Act​​.
For easy reference, a copy of the relevant section is on display in the photocopy room. Other services offered include binding, scanning, faxing and laminating.
Click Price List for the price listing.
For other enquiries, please approach the operator at the photocopy room for assistance.